Product Code:
Italia 36" Counter Table
Italia 36" Counter Table
Italia 36" Counter Table
Base 23"x23"x34.5"/Round Top 30''x 1.5''

Description
70-247 Base Only
70-247A with Copper Top
70-247E with Old World Pine Top
70-247F with Marble Top
Italia 40" Bar Table
Base 23"x23"x38.5" /Round Top 30''x 1.5''
70-248 Base Only
70-248A with Copper Top
70-248E with Old World Pine Top
70-248F with Round Marble Top
---
Iron Finishes
Our standard iron finish is our special natural black over a green rust proof primer. Please note that our other available finishes require a 10% premium.
Iron finishes available:        
Black (Standard) / Aged Pewter (10%) / Aged Rust (10%) / Aged Bronze (10%)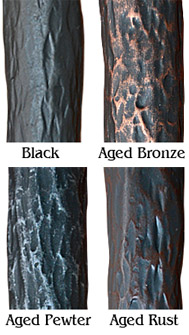 ---
Available Tops (Glass Tops, not shown)

---
*Product Care
For all of our iron products we recommend furniture polish be used regularly.  We ship all of our copper tops out with a wax coating.  We recommend that you wax your copper table every 1-2 months. 
Friday, 29 September 2017
These tables are have a timeless appeal, are versatile and durable, We purchased three of these for use in a golf course clubhouse and have several more in golf clubhouses, game rooms and apartment leasing offices. The hammered copper tops are amazing. The dimples caused by the hammering process results is a strong surface that is quite good at concealing "normal" wear. I believe all tables from Mathews with copper, stone or marble tops are "Heirloom Quality" with a useful service life measured in decades. The first copper top tables we ordered from Mathews are still attractive after 10 years of service in a busy commercial environment. Pricing is ridiculously low considering durability and timeless appeal.