Italia Dining Table
Base 40"x40"x 28.5'' / Table Height 30"

Description
70-236 Base Only -holds 48"Round Top
70-236X Base Only -holds 42"Round Top
70-236A with 48" Round Copper Top
70-236C with 48" Round Marble Top
70-236E with 42" Round Copper Top
70-236G with 42" Round Marble Top
---
Iron Finishes
Our standard iron finish is our special natural black over a green rust proof primer. Please note that our other available finishes require a 10% premium.
Iron finishes available:        
Black (Standard) / Aged Pewter (10%) / Aged Rust (10%) / Aged Bronze (10%)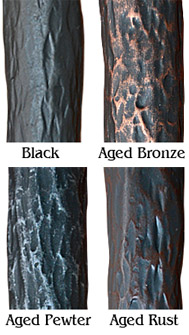 ---
Available Tops (Glass Tops, not shown)

---
*Product Care
For all of our iron products we recommend furniture polish be used regularly.  We ship all of our copper tops out with a wax coating.  We recommend that you wax your copper table every 1-2 months. 
Friday, 29 September 2017
Five star rating, please - I placed my first order with Mathews April 13th, 2007. The order was for to 42" and two 48" tables with copper tops and customized modified Italia bases. I adopted a wait and see mind set before passing judgement on their work. When I finally got a look at the product I was blown away with the look of the copper topped tables and quite impressed with the way our order was packaged. Shipping and Packaging - nothing has ever arrive with damage, c There are companies out there who make a lot of money by inflating freight charges. Mathews uses the best LTL freight carriers and pass great rates on to their customers. Assembly - really easy! They drill holes in the tubing for screws to hold top to base so all you have to do is drop in a provided screw and hit it with your cordless device. Voila - You're done! Durability - the tables we bought 10 years ago are still going strong in a demanding commercial environment. I am of the opinion that the copper top tables by Mathews are "Heirloom Quality". The people - Shirley and Dave and their employees: Working with Mathews couldn't be easier. They are a prime example of a well run company. Conclusion - Mathews and Co produce great products with reasonable pricing and go to great lengths to make sure you get what you order in a timely manner. Mathews ROCKS!